Mariners remove Blue Jays merchandise from team store following backlash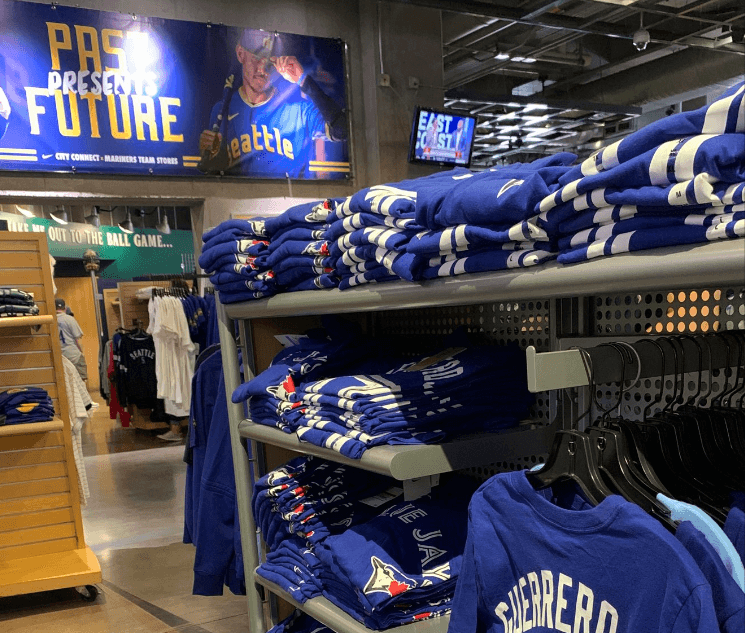 Fans will no longer be able to purchase Toronto Blue Jays merchandise at the Seattle Mariners team store at T-Mobile Park.
The Blue Jays are making their annual trip to Seattle this weekend and there will be an influx of Western Canadian fans filling the stadium to cheer on their team. The Mariners figured it would be a good idea to capitalize on the Canadian fan takeover by selling Blue Jays apparel at their team store.
An image posted by Mariners Muse on Twitter
went viral earlier this week with fans of other teams dunking on the Mariners in response. Not only did this bother Mariners fans, but it also caught the attention of players on the team. Pitcher Paul Sewald said "What the hell is this" and infielder J.P. Crawford posted a facepalm emoji.
It didn't take long for the Mariners to go back on their decision. Seattle radio host Dave "Softy" Mahler posted on Tuesday evening that the Blue Jays apparel had been removed from the team store and the display was replaced with Mariners gear.
It makes sense why Mariners fans and players would be bothered by this. Each year, one of the series they host at home turns into essentially an away series. Having your own stadium filled with fans rooting against you is one thing, but the team leaning in and adding fuel to that fire is another.
Blue Jays fans can laugh at this situation all they want but it wasn't long ago that similar things were happening at Rogers Centre in Toronto.
The Blue Jays used to sell Boston Red Sox and New York Yankees hats when those teams visited Toronto because the stadium was loaded with so many opposing fans who were watching their team on the road.
Andrew Stoeten also pointed out
that the Blue Jays "emailed fans of the Tigers and Red Sox offering them tickets … before they [went] on sale to the general public in Toronto."
---