Pablo Lopez should be on the Blue Jays' radar this winter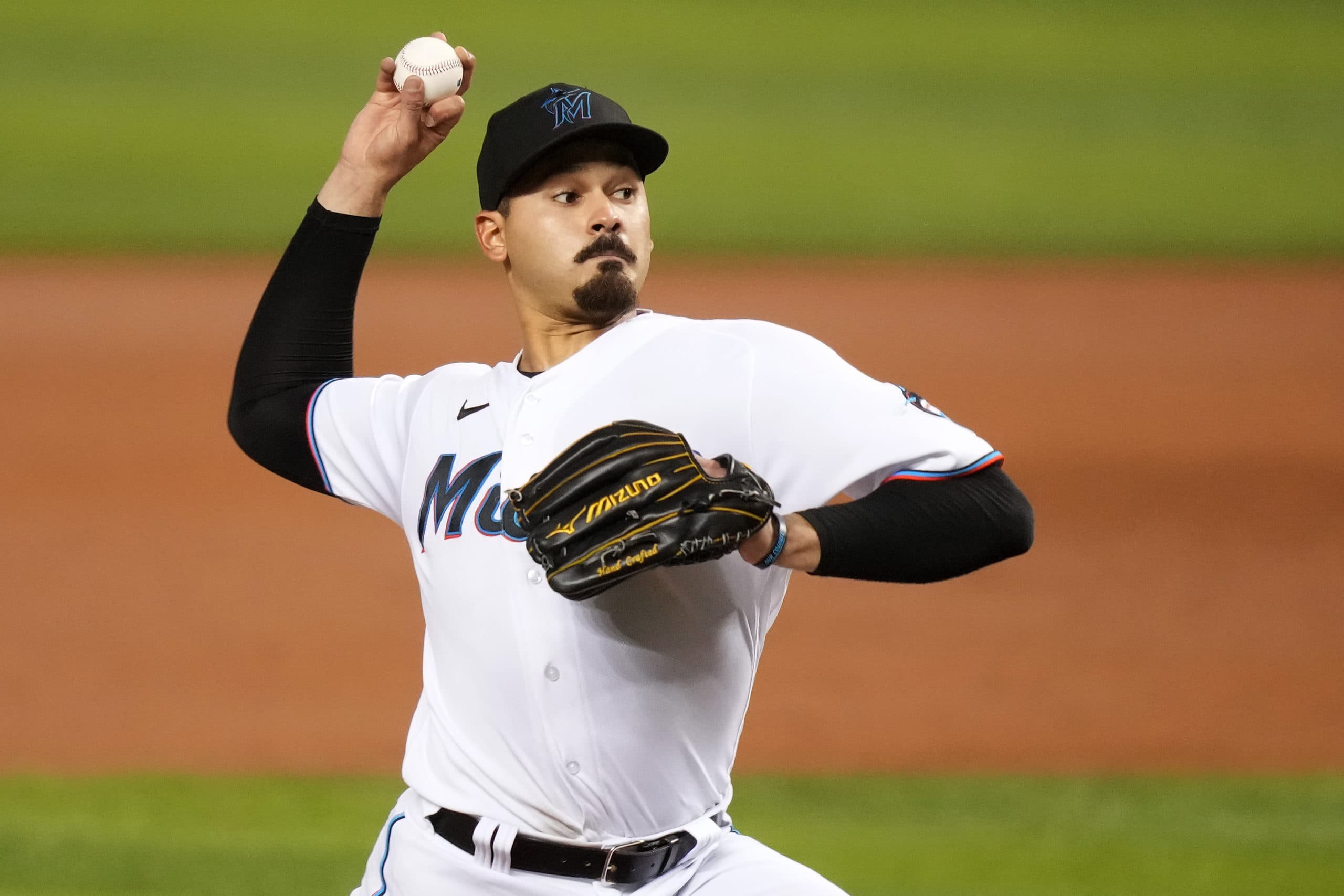 Photo credit:Jasen Vinlove-USA TODAY Sports
With key free agents like Robbie Ray, Marcus Semien and Steven Matz expected to become available this off-season, it's no secret the Toronto Blue Jays will be looking to spend in free agency. But there's also a very good chance they could be major players on the trade market over the next few months, too.
Considering two-fifths of the Blue Jays starting rotation from this past season is slated to hit the open market following the World Series, addressing those two areas will undoubtedly be one of the many priorities for the front office this winter. Since every hole can't be filled through free agency, at least for this organization, it seems they'll be aiming to execute a few impactful trades before spring training rolls around.
While several different teams might be inclined to move a talented starter, on paper, the Miami Marlins – who haven't been strangers to making blockbuster deals in the past – could prove to be an ideal trading partner once the off-season begins.
Hoping to climb out of the National League's basement next season, the Marlins have previously been rumoured to be looking to make a giant splash or two in an attempt to dramatically improve their roster. Since they feature a handful of highly-touted arms, particularly at the major league level, some of that depth could be utilized to help strengthen their position player group.
Combining Toronto's need for starting pitching, they also possess a sizeable number of intriguing trade chips on the position player side, most notably, catcher Alejandro Kirk. Though the 22-year-old could carve out a strong future north of the border, his talents could also be used to acquire one of Miami's promising young hurlers.
Starting at the top of management's potential wish list, pitchers Sandy Alcantara and Trevor Rogers would likely be the first two names to pop up in trade discussions, unfortunately, odds are neither of them will become available. In turn, the conversation could shift to the No. 3 starter on their depth chart, Pablo Lopez, who may end up becoming a very popular attraction this winter.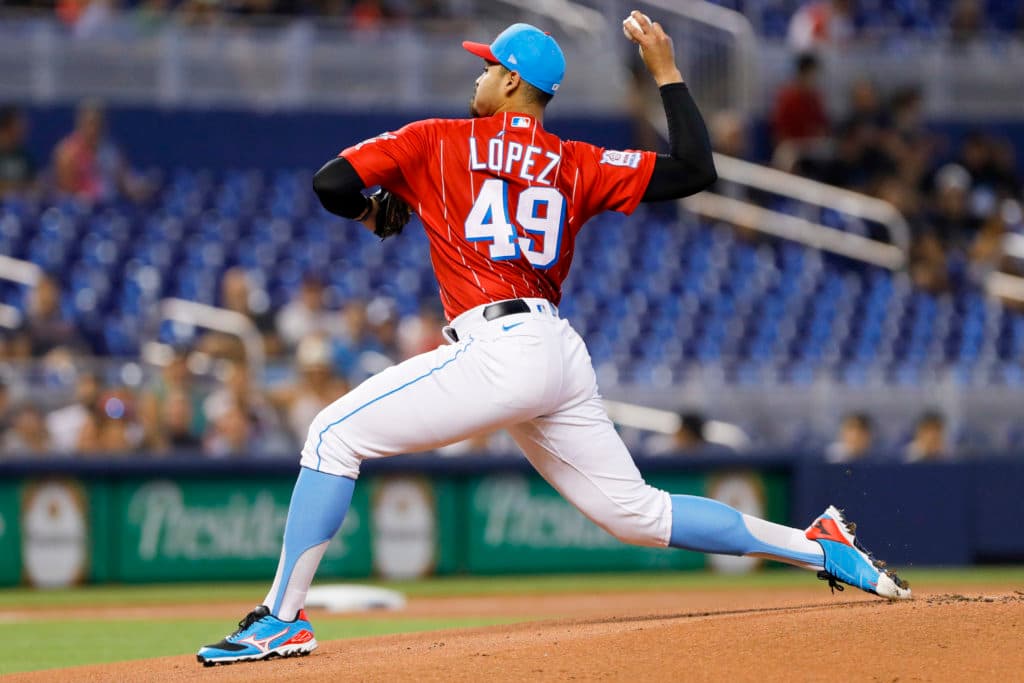 Credit: Sam Navarro-USA TODAY Sports
From the Marlins' perspective, Lopez is nearing the prime of his career and will only become more expensive from here on out, as he's arbitration-eligible for the first time in 2022. Despite featuring three more seasons of team control, for a small-market franchise, their ability to retain him long-term will almost certainly decline as time progresses.
Paired with his contractual status, moving the 25-year-old starter would also open the door for some of their prominent young arms to emerge at the major league level, including Elieser Hernandez, Edward Cabrera, Braxton Garrett, Sixto Sanchez and Max Meyer.
As for the acquisition cost, along with Kirk, the Blue Jays would most likely be required to attach at least one B-level prospect in their offer to the Marlins. Even though the front office could afford to send one of Kevin Smith or Otto Lopez the other way, it'd be more beneficial to include someone like Logan Warmoth, who's eligible for the Rule 5 Draft this off-season.
In saying that, there's no question Miami will inquire about the availability of top prospects like Gabriel Moreno, Orelvis Martinez and Jordan Groshans – they wouldn't be doing their job if they didn't. But if their front office isn't able to move past any of these names, then any potential negotiations could prove to be unsuccessful.
Assuming trade discussions between these two organizations are productive, there'd be multiple different advantages from Toronto's standpoint to acquire Lopez, who enjoyed a breakout performance this past season.
Most importantly, this team would be receiving a young hurler that's on the rise and has displayed signs of developing into a front-line starter in the near future. Showcasing those exact traits in 2021, the right-hander continued to build off his success from the pandemic-shortened 2020 schedule, allowing him to blow past numerous career marks during his fourth season in the majors.
Even though a strained rotator cuff limited him to just 102 2/3 innings pitched, Lopez was still able to register the top statistical showing of his young career, resulting in an impressive 3.07 ERA, 77 ERA-, 3.52 xERA, 3.29 FIP, 79 FIP-, 3.32 xFIP, 78 xFIP-, .231 OPP AVG and a career-best 2.3 fWAR rating.
Exploring one of his biggest strengths, the 6'4″ starter has been exceptional at creating swings and misses while also limiting free passes to first base, which were two areas that took a sizeable step forward during the 2021 campaign. As a result, he was able to generate the highest strikeout (27.5%) and walk rates (6.2%) of his career.
Digging deeper, Lopez excelled at enticing opposing hitters to chase outside the strike zone, earning him a 33.3% chase rate, which ranked in the 94th percentile among all pitchers in the majors. Additionally, those same batters whiffed 38.3 percent of the time when they extended the zone, an increase of 5.2 percent from 2020.
One of the main factors that led to this impressive increase was his elite high-80s changeup – the righty's primary pitch – as it created a career-best 45.7% chase rate. In turn, all of those swings beyond the zone ultimately helped him produce a 34.1% strikeout rate with his devastating off-speed weapon.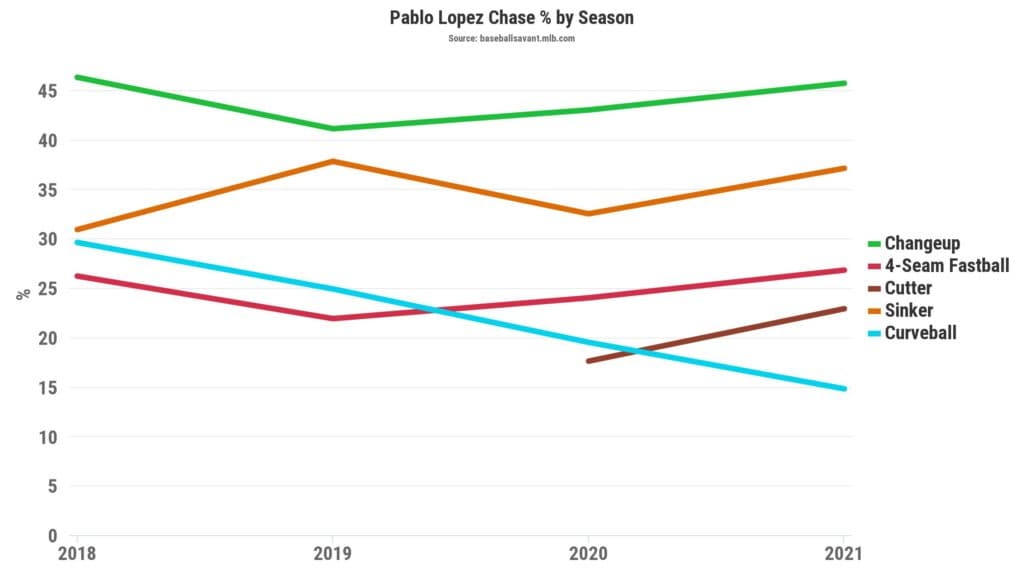 Similar to Lopez's changeup, his mid-90s sinker also created a considerable amount of chases this past season, causing it to record a 37.1% chase rate. But instead of all those swings resulting in a ton of strikeouts, they were crucial in his ability to serve as a ground-ball pitcher – an aspect that'd be extremely valuable on Toronto's pitching staff.
Granted, the former amateur free agent witnessed a slight regression involving his ground ball rate (47.0% in '21), which was largely caused by his sinking fastball. Having said that, he was still able to perform effectively in that department, as his sinker, changeup and curveball all induced reasonably high ground ball totals.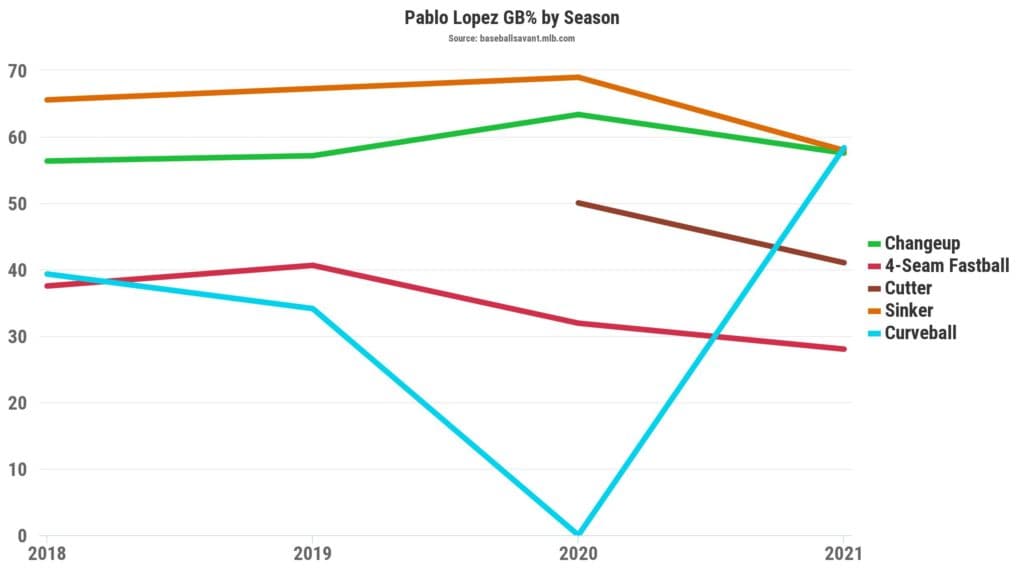 Admittedly, one of the few downsides to trading for Lopez is the fact he was plagued at times by home runs, particularly against his mid-90s four-seamer. After allowing just a pair of long balls in 2020, it surrendered five this past season – the most among all five of his pitches.
As alarming as this issue might seem, if the native of Venezuela were to operate under the guidance of pitching coach Pete Walker, there's a pretty strong chance he could correct this problem and begin locating his primary fastball much higher in the zone, keeping it away from dangerous locations.
With Lopez slotted into the Blue Jays' rotation, even without Ray or Matz, they'd feature a very strong group of starters, including Jose Berrios, Alek Manoah and Hyun Jin Ryu. Since the Marlins' hurler is only
projected to receive $2.5 million through arbitration
this winter, that amount shouldn't deter the front office from targeting another front-line starter in free agency.
If the team were to acquire said pitcher, whether that's re-signing Ray or landing someone like Kevin Gausman, that'd likely provide them with one of the top rotations throughout the majors in 2022. As for where that might leave Nate Pearson, well, perhaps he could serve as the next arm up in case of an injury or potentially return to the bullpen down the stretch once again.
Whatever path Toronto ultimately chooses this off-season, don't be surprised if they end up completing a headline-worthy trade with Miami in the coming months – as always, expect the unexpected around this time of the year.