Revisiting the José Berríos trade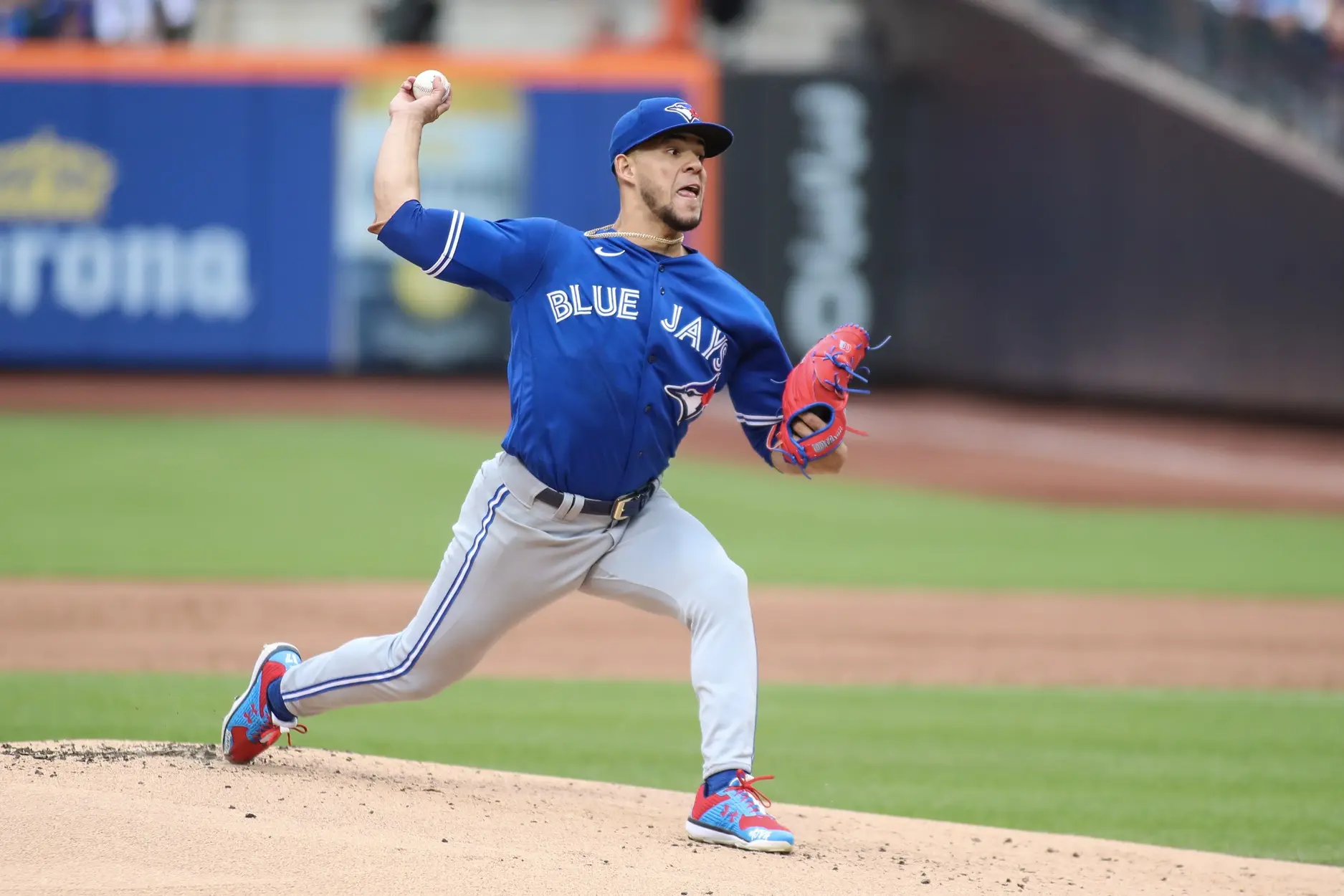 Photo credit:© Wendell Cruz-USA TODAY Sports
Where were you on July 30th, 2021?
Myself personally, I was working on a roof just to go to my second job which was essentially babysitting adults. However, it was an important day for baseball, and even more so for the Blue Jays as they returned to the Rogers Centre for the first time since 2019.
However, it was also trade deadline day and the Jays were looking to make a splash. They made a few minor moves, such as moving catcher Riley Adams for Brad Hand, and two prospects, J.J D'Orazio and Yaifer Perdomo for Joakim Soria (disgusting).
Their biggest move of the day was trading Austin Martin, MLB Pipeline's No,16 prospect at the time, and Simeon Woods Richardson, MLB Pipeline's No.68 prospect at the time, for José Berríos. If you want to see who most people think won the trade, check out the replies to Jeff Passan
Admittedly, I also wasn't a huge fan of the trade, as editor Cam had to stop me from writing a rage article. After I calmed down, the trade made sense, especially after extending Berríos, but I'm getting ahead of myself.
Let's look at how the players the Jays have given up have done, as well as Berríos' tenure in the 6IX.
Austin Martin:
In the COVID-shortened 2020 draft, Martin was expected to be selected second overall, but fell to the Jays at fifth overall.
It was quite the surprise, and the Jays placed the then 22-year-old in Double-A to start the 2021 season. He had a great start to his year, slashing .281/.424/.383 with two homers in 250 plate appearances for a 133 wRC+ prior to the trade.
Once acquired by Minnesota, they followed suit and left him in Double-A, where he slashed .254/.399/.381 with three homers in 168 plate appearances for a 120 wRC+. While he showed a lack of power and no true home, his hit tool was fantastic, and showed plus speed on the bases.
But then 2022 happened. Now 23 years old, Martin repeated Double-A and slashed .241/.367/.315 with two homers in 406 plate appearances. While he still took walks often, his wRC+ dropped from ~125 to 89 wRC+, and this is
after
repeating the level. He did steal 34 of 39 bases though.
Martin has missed most of the 2023 season due to a UCL problem, a common injury amongst pitchers, that can occur to all players that throw the ball. In fact, all but one of the players the Blue Jays drafted in 2020 have suffered a UCL injury. Martin has a handful of plate appearances in the FCL and Single-A on a rehab assignment.
Before the trade, Martin was the Blue Jays' second-best prospect (behind Nate Pearson). Less than two years later, the 24-year-old is the 11th-best Twins prospect.
Simeon Woods Richardson:
The Blue Jays acquired Woods Richardson at the 2019 deadline after trading long-time Blue Jay Marcus Stroman to the New York Mets.
Woods Richardson had a great start in the Blue Jays organization in 2019, posting a 2.54 ERA and a 2.46 FIP in 28.1 innings in what was High-A Dunedin at the time.
The Blue Jays were aggressive with him, promoting him to Double-A New Hampshire as a 20-year-old. Unfortunately, he wasn't great as he posted a 5.76 ERA and a 3.78 FIP in 45.1 innings pitched. After the trade, Woods Richardson only pitched eight innings in 2022, posting a 6.75 ERA and a 3.98 FIP with Minnesota's Double-A team.
The Jays sold low on Woods Richardson, but he had a fantastic 2022. He repeated the Double-A level to start the year, posting a 3.06 ERA and a 3.55 FIP in 70.2 innings as a 21-year-old at the level. He earned a promotion to Triple-A, and posted an even better 2.21 ERA and a 2.96 FIP in 36.2 innings pitched.
Woods Richardson was so good in fact, that he started one of Minnesota's final games of the season a few days after turning 22 years old. He finished that game with a line of
5 IP, 2 ER, 3 H, 2 BB, 3 K.
However, the 2023 season has been rough for the right-handed pitcher. He has pitched the majority of the season with Minnesota's Triple-A team, posting a 8.08 ERA and a 5.86 FIP in 42.1 innings pitched. Moreover, he has a low 17.6 K% and a high 12.7 BB%. He has pitched a game in the majors, and finished with a line of
4.2 IP, 5 ER, 7 H, 3 BB, 5 K.
Still, SWR ranks as the Twins' eighth-best prospect. It's easy to remember how young the right-handed pitcher is though, he's legitimately 5.3 years younger than the average pitcher in the International League.
I truly believe he'll be a fine back-end of the rotation starter.
José Berríos:
The reception to the Berríos trade… wasn't great, to say the least. It's sort of odd because Berríos had a track record of being a consistent number three in the rotation with the stuff to be even better.
From the start of the 2017 season to the trade, Berríos had a 3.76 ERA and a 3.84 FIP in 723 innings pitched, along with a 24.2 K% and a 7.2 BB%. That is essentially the definition of a consistent pitcher.
Even after the trade in 2021, Berríos posted a 3.58 ERA and a 3.28 FIP in 70.1 innings pitched with the Jays. That saw his K% rise to 26.8% while his BB% declined to 4.5%.
There were several concerns about Berríos and the trade. For starters, some people thought he was just "mid", even though he most certainly was not. Another concern was that the Jays had just given up the No. 16 prospect and the No. 68 prospect. With hindsight, Martin hasn't really developed that well, while Berríos will
likely
have a better career than Woods Richardson.
The last concern, the fact he was set to become a free agent after the 2022 season, became a non-issue (well, sort of) after he signed a seven-year, $131 million deal with the Jays on November 18th, 2021.
However, as you know, Berríos had a brutal 2022 campaign. His 5.23 ERA and 4.55 FIP were the worst since his rookie season in 2016. He still ate his fair share of innings, getting through 172 of them, but it was tough to watch 2022 Berríos.
Fun fact: did you know that José Berríos is on pace to have a career year? Through 14 starts in 2023, he's rocking a 3.28 ERA and a 3.76 FIP in 85 innings pitched. It's true that Berríos' K% has dropped slightly since his time in Minnesota, as it sits at 21.7%. But in the end, Berríos is avoiding hard contact, which was his issue in 2022.
After a great start against the Baltimore Orioles that saw him finish with a line of
7.2 IP, 3 H, 0 ER, 1 BB, 5 K
(and throwing a no-hitter into the seventh), it's safe to say that Berríos has returned to his pre-2022 form.
Want more proof that this is the Berríos that the Jays acquired? Since April 14th, he has a 2.27 ERA and a 3.85 FIP.
This is great news for the Blue Jays, as Alek Manoah has taken on the "2022 Berríos" curse. If they both struggled? Oof.
Who won this trade:
All three players involved in this trade have had their struggles and successes.
Berríos has definitely had his struggles, but even while struggling in 2022, two-thirds of his starts were actually pretty good. In the end, he's at worst a pitcher who'll eat innings while struggling one-third of the time. At his best though? Who knows, he hasn't reached it yet.
Martin has had a tough professional career. After having a great first season (with some glaring questions), he hit a wall in his second season development, and has barely played in his third year. Development is non-linear, but it really seems he won't live up to his fifth overall status, even if he becomes an MLB regular.
Woods Richardson reached the big leagues as a recently-turned 22-year-old, but has struggled to start the 2023 season. With that being said, he has a solid shot at being a back-end starter or a reliever who can pitch multiple innings out of the bullpen. 
As of right now, the Blue Jays won this trade because they got a Major League player who has been good for them, even with his struggles. It's possible that both Woods Richardson and Martin develop into MLB regulars, but it seems less certain than it did when the trade occurred on July 30th, 2021.
---
As always, you can follow me on Twitter and Instagram @Brennan_L_D.
---