Ross Stripling has made the qualifying offer a no-brainer. What about a multi-year deal?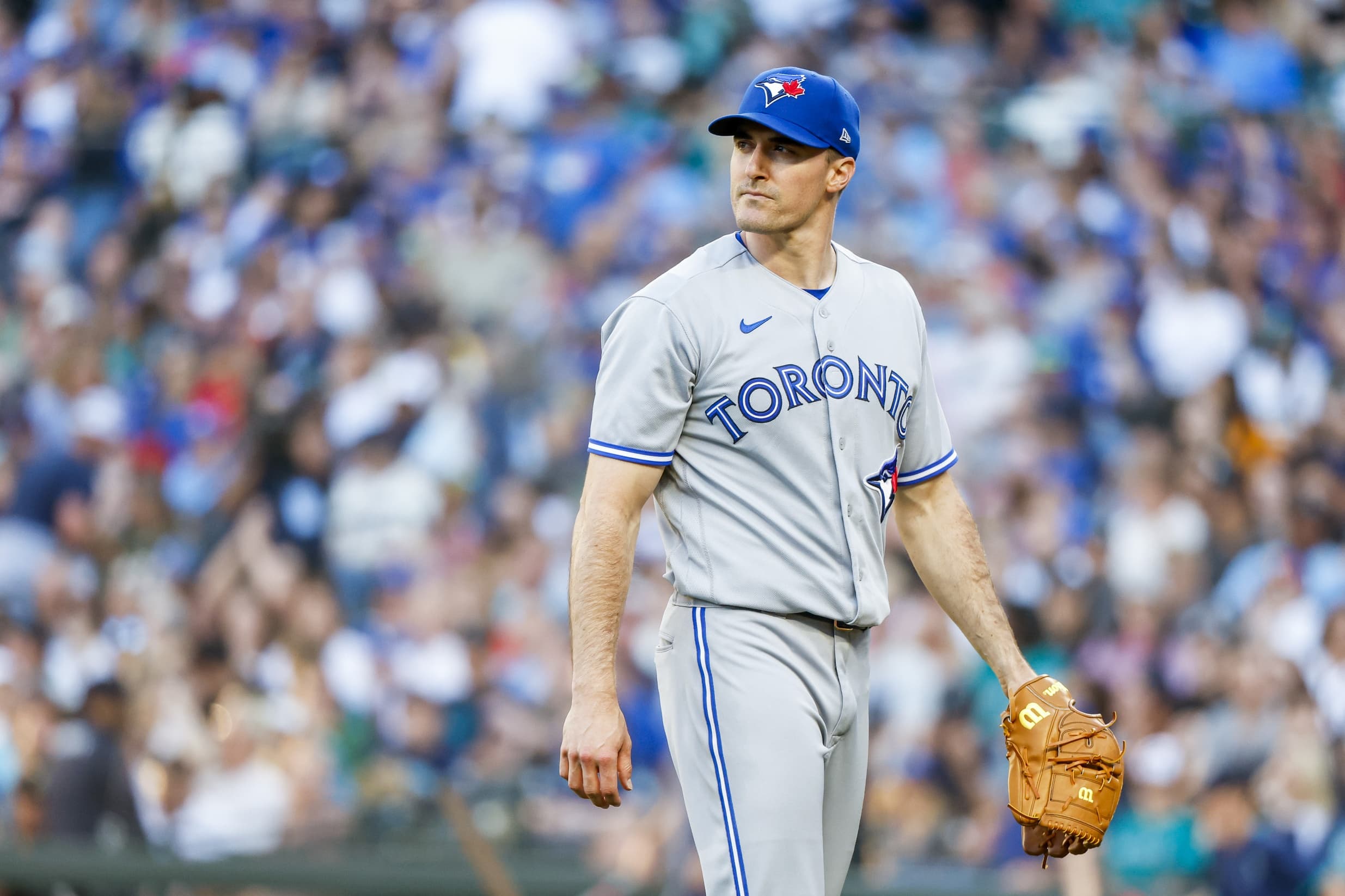 Photo credit:© Joe Nicholson-USA TODAY Sports
Ross Stripling has been the ultimate glue guy for the Blue Jays since landing in Toronto during the pandemic-shortened season. He's filled any role that either the front office or managerial staff have asked of him, and he's done it well too. Now, it's time for him to get paid.
Ross Stripling has been unbelievable in 2022. He has an ERA better than Kevin Gausman, and a FIP better than Alek Manoah. You might not like to hear it, but you can easily argue that Stripling has been more valuable to the Blue Jays than either of those guys. Not only that, but you can argue that his success is even more sustainable than guys like Manoah. Strip is posting better K-BB ratios than Manoah, with better groundball rates as well. Both are huge indicators of future success, and Stripling checks those boxes. Not only that, but Ross has gotten stronger as the season's gone on, as his 20 game rolling FIP has been dropping basically since May.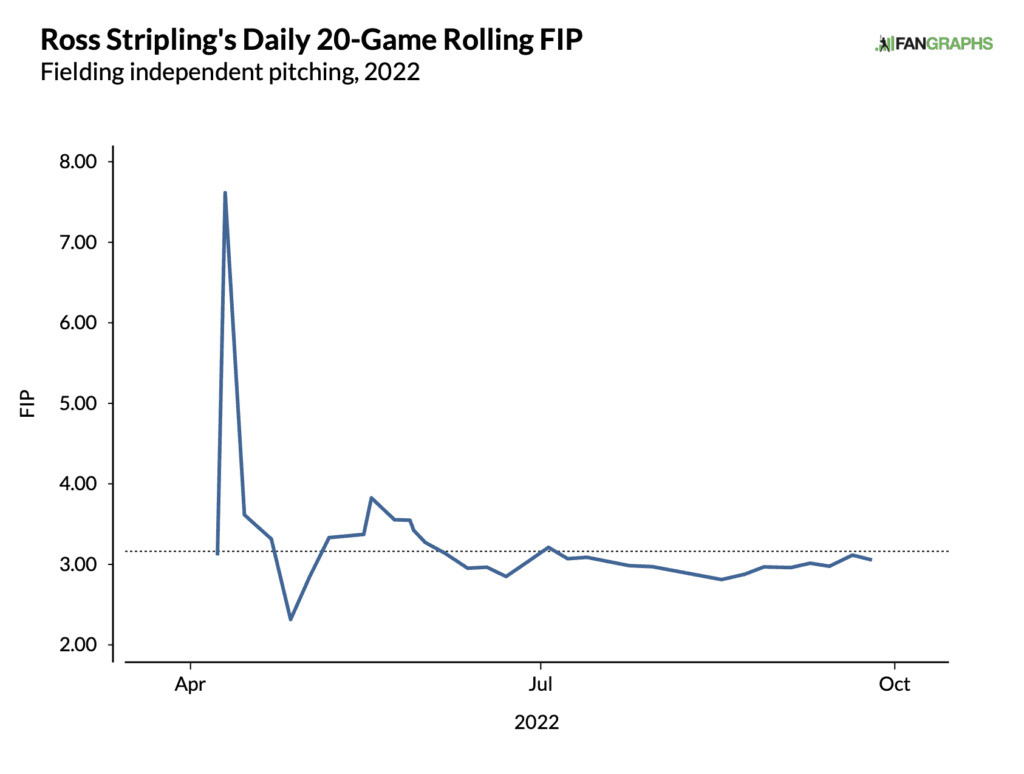 He excels at keeping hitters off balance, which he does with a 5 pitch mix. Ultimately, the four-seam fastball's still the pitch of choice, but the changeup and slider are still used quite heavily. The curve and sinker take a backseat, but the sinker especially is a good pitch. In the past, we've briefly discussed tunnelling. Curveballs tend to tunnel best with cutters, they don't manage to draw whiffs otherwise, and that's certainly true of Stripling's curve.

As a matter of fact, the year that Stripling's curveball generated the most whiffs was in 2018, when it was actually his best swing and miss pitch (35.9%). That was also the year in which he actually did use a cutter, just under 3% of the time. Interestingly enough, it was also the best year for his curveball in terms of chase rate, at 35.1%. It's never even been higher than 30% since. Anyways, he maintained that cutter for one more year before trashing it. I'm a big proponent of guys using pitches to enhance the rest of their arsenal, and that's *probably* something that a cutter would do for Stripling, but ultimately, he's got it working either way. However, 2018 was Stripling's best year in terms of both whiff and chase rate.
Stripling's best pitch though, is his changeup. This year, he exponentially increased its usage against same handed batters, something he has steadily been doing since joining the Jays.

He's doing this to good effect as well, as you would expect when a change is made to such a significant extent. Pitchers have a well known aversion when it comes to throwing changeups to SHB's, but Stripling at least, shouldn't. Right-handed batters have an xwOBA of 0.242 against the change, and lefties have a 0.245 xwOBA, so it's even a little bit better against SHB's. The pitch even has the PitchingNinja stamp of approval…
What makes the changeup successful? Let's talk some more about one of my favourite topics, tunneling.
When Ross Stripling was with the Dodgers, a call from Andrew Friedman (President of Baseball Operations)
changed his career
. "He was like, 'Hey man, we want you to throw up in the zone more.' When he said that, I was like, 'I don't know. Angle is what makes me good, blah, blah, blah.' He was like 'Try it, because your spin rate is this, your spin efficiency is etcetera.' I was like, 'OK'."
Now, Ross Stripling is a guy who continues to throw up in the zone. Here's a look at his pitch chart in 2022…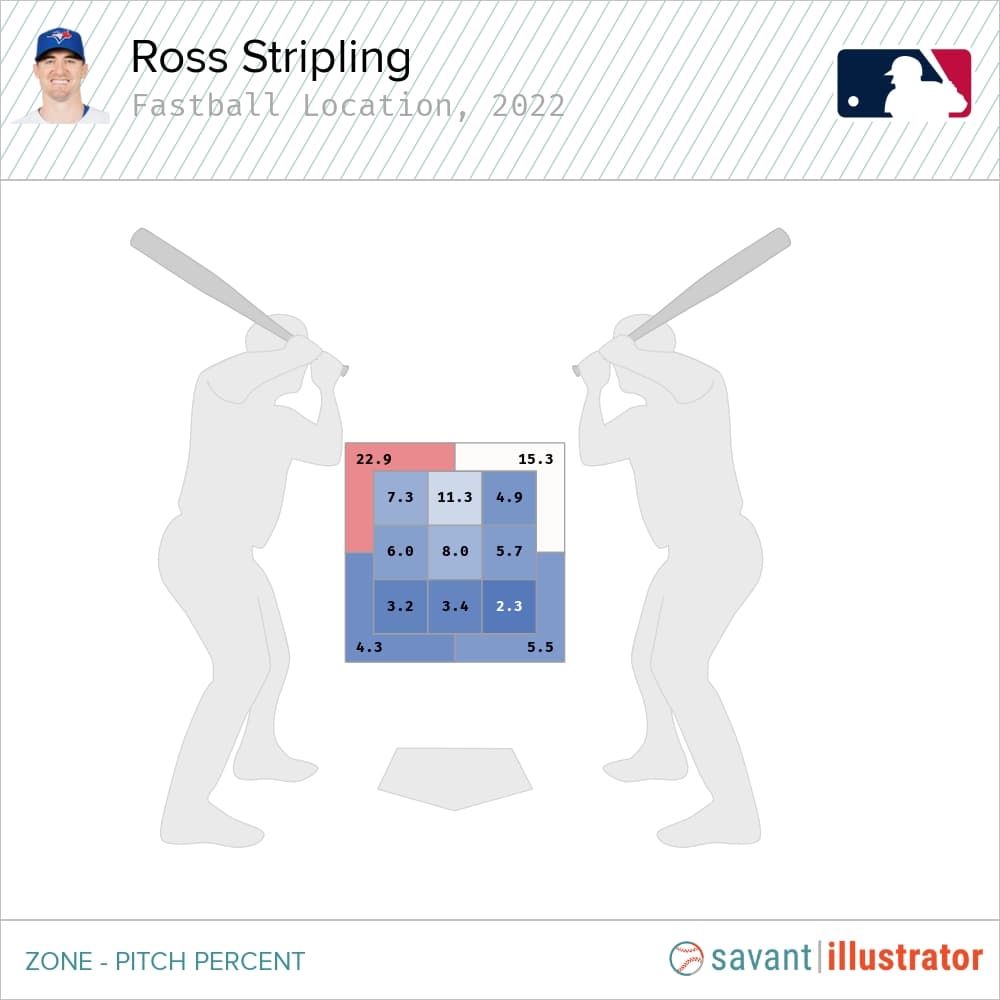 He's also doing it to great effect. As you'd expect, it's not exactly easy to get away with fastballs over the middle of the plate, but other than that, the fastballs up seem to be doing pretty significantly better.
However, that's not all. The other benefit of the fastball up is how it works with his other pitches. Tunneling is a widely misunderstood concept in baseball. I have discussed this briefly in my Mitch White article, but there's a lot more to be said in this case. As I mentioned in the past, some of my friends released a
collaborative project
on pitch tunnelling in baseball a while ago. The article succinctly explains the misconception about tunnelling in a way that I couldn't. "If you've ever seen two pitched cross paths, as they approach the place and perceive it as pitch tunneling, you're not alone. Videos and GIFs of pitch overlays often go viral…However, this viewpoint is largely inaccurate. The hitter's perception defines pitch tunnels, not what we see on TV. The other problem is the sample size. Two pitches might look similar at one point during their flight, but that does not mean they are similar the entire time. Pitching works on the law of average."
As this explains, the kind of overlays that PitchingNinja posts may look nice, and do give a perspective of how hard hitting really is, but they do not actually equate with tunneling. That makes sense. These clips often include freeze frames of spots which the two different pitches are in the exact same spot, but again, that's based on the centre field camera, and it doesn't mean those pitches necessarily looked anything like each other BEFORE they got to that spot.
So, then what does create strong fastball-changeup tunnels? Well, one important aspect is a VAA (vertical approach angle) separation from the four-seam fastball. In other words, VAA is the angle at which a pitch approaches the plate. Here's a graph that illustrates the relationship between VAA difference and changeup chase rate.
The idea behind this is the location. Fastball up, changeup down is something that allows the changeup to excel, which is one aspect of VAA. The number largely encompasses velocity, pitch height and release point. If you'd like to read more about VAA, Alex Chamberlain of FanGraphs wrote an absolutely terrific piece in February, that you can read
here
. VAA separation is the most important thing when it comes to tunneling the changeup, but the other biggest thing that matters is horizontal movement (of which, Stripling actually doesn't have a ton). The tunneling piece I referenced earlier does note that "there are no bad changeup tunnels", but there are definitely better changeup tunnels, and Strip's VAA separation gives him that. The difference is 2.9, which ranks among the leaders, as you can see in the above graph. Also, Strip's CH chase rate is 47.8%, which ranks 3rd in the league among pitchers who've thrown at least 300 changeups outside of the zone.
Before, we talked about how he uses the fastball up in the zone, but now let's prove that he uses the changeup down.
As we mentioned earlier, a major component of VAA is pitch location, and so a separation in VAA between two pitches implies a difference in pitch location between those two pitches. As you can see here, that's definitely true of Stripling. He tends to put his fastball up in the zone and his changeup down, creating a strong tunnel between his two best pitches.
When people talk about whether or not it's the right move to bring Stripling back, those who don't think so will often cite a lack of sustainability as their reason. Here's why that's simply not something you should worry about…
Ross Stripling simply is not the same pitcher he's been in the past. I'm aware that his ERA last year was 4.80, I'm aware that pitchers have a huge tendency to eventually regress to the mean. However, past years are not representative of Stripling's mean. He has massively increased his changeup usage in 2022, and there's no reason to expect that to change in the future. He's steadily decreased the curveball usage ever since joining the Blue Jays, and there's no reason to expect that to change in the future. It's as if you've got a whole new pitcher on your hands. You should only be looking at regression indicators from this year to predict whether or not the aforementioned actually does occur. So, let's do that. Do Ross Stripling's peripherals look as good as this changeup does?
The short answer is, yes. The long answer? Well, Ross's got a 3.12 FIP, which is 21st among pitchers who've tossed 130 or more innings in 2022. Not only that, but that 3.12 FIP outshines some of the league's top pitchers, including Framber Valdez, Cristian Javier, Alek Manoah and Corbin Burnes. That's some pretty good company. Stripling's xFIP, which is FIP but with normalized home run rates, isn't much worse. It sits at 3.66, which is a better mark than Julio Urias, Patrick Sandoval, and again, Alek Manoah. Strip's groundball rate is 39th, ahead of guys like Spencer Strider, Kevin Gausman and Dylan Cease. He doesn't strike out a lot of batters, but he doesn't walk many either, and as a result, his K-BB% is 34th. It's ahead of other pitchers like Frankie Montas, Kyle Wright, and yet again, Alek Manoah. The point? There's no reason to think that Strip will suffer major regression in the future, just because he doesn't throw hard. Even in today's game, plenty of soft tossers have had long term success. Logan Webb only throws about 93 MPH on the fastball, and he's been a fantastic pitcher for two years running now. Shane Bieber has an even slower fastball than Strip, and he just put up another 5 WAR season.
So, we've talked about why Stripling's been good and we've talked about why this performance is sustainable. The only question left when you're evaluating whether Stripling should get the qualifying offer is the actual value of his season. There's plenty of ways to go about this, but the answer is that Stripling's been worth even more than the QO, which will be around $19MM. According to FanGraphs, his WAR translates to a value of $23.1 million, which surpasses the qualifying offer fairly easily.
Not only that, but mid-level pitchers have a massive tendency to get overpaid in free agency. Yusei Kikuchi's 2021 was valued at $8.7M by FanGraphs, and yet he got $12M in free agency. Teams like the Angels are always desperate for pitching, and are basically guaranteed to offer guys like Stripling a multi-year deal. With that being said, the Blue Jays should not only extend Stripling a qualifying offer for insurance, but they should also be offering him an extension. Perhaps it's unreasonable to see Ross getting a multi-year contract that's worth significantly more than $20M AAV based on a good year, teams have to be cautious to some extent.
However, based on his 2022 season, there's absolutely no reason that a contract that's worth about $60M in total over 3 years isn't one the Jays should offer. He's been absolutely integral to the Blue Jays success this year, and if Jose Berrios can bounce back next year, there's no reason why Strip can't be a crucial part of one of the best rotations in the American League in 2023.
Thanks for reading! As always, you can follow me on Twitter @6lXWAR! All stats via Baseball Savant and FanGraphs. Be sure to check out the excellent piece on tunneling here, and the piece on VAA here.
---