The 2023 Blue Jays, Position by Position: A deep dive into how the team's outfield has improved defensively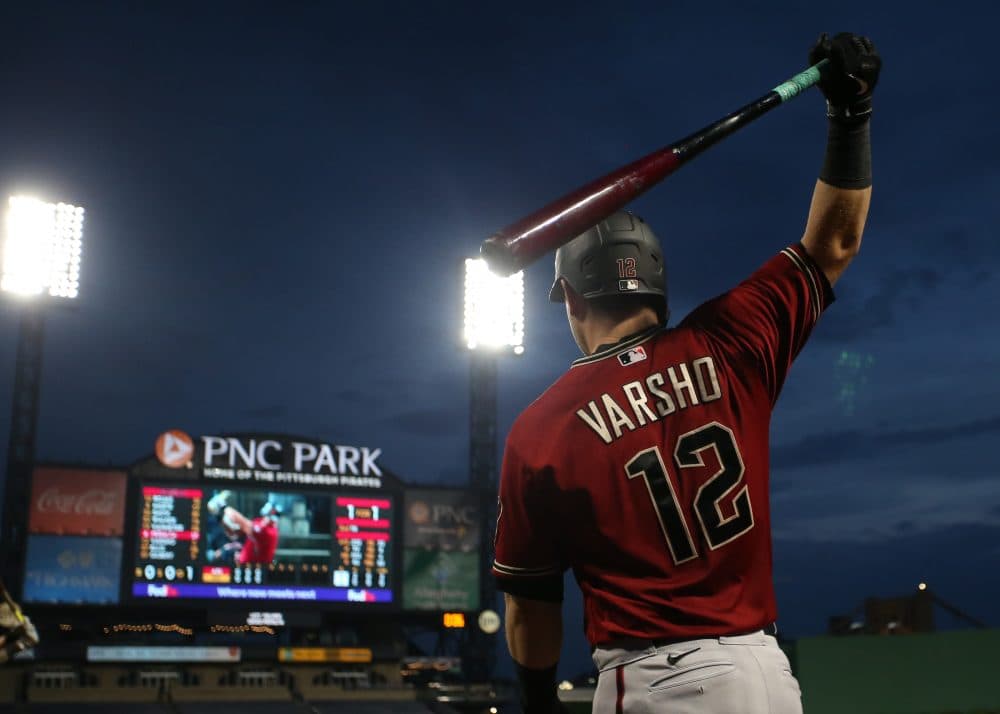 Photo credit:CHARLES LECLAIRE-USA TODAY SPORTS
The off-season is all but done, which means that it's time to look at the Blue Jays, position by position, once again.
Four months ago, I took a look at the bullpen, the starting rotation, the catching situation, the infield, and the outfield situation (which we'll look at today). What has changed? Who occupies each role? That's what the redux of the series will look to answer.
The outfield changes:
The Blue Jays outfield is the position that has seen the most significant change. The original series came out at the end of October, so at the time, here's what it looked like for the Jays.
Lourdes Gurriel Jr. – Left field
George Springer – Centre field
Teoscar Hernández – Right field
Raimel Tapia – Fourth outfielder
Jackie Bradley Jr./Bradley Zimmer – Defensive replacement outfielder
Only one player remains from this group, George Springer. Here's the outfield heading into the 2023 season.
Daulton Varsho – Left field
Kevin Kiermaier – Centre field
George Springer – Right field
Otto López/Whit Merrifield/Cavan Biggio/Nathan Lukes – Fourth outfield
Let's compare players in the old outfield to their replacements. It's worth noting that it won't be a direct replacement. Varsho was not brought in to replace Gurriel, despite playing the same position.
Teoscar Hernández out, Daulton Varsho in:
In 2022, Hernández slashed .267/.316/.491 with 25 homers in 535 plate appearances. Moreover, he had a 6.4 BB% and a 28.4 K%, leading to a 129 wRC+ and a 2.4 Fangraphs WAR (fWAR). Defensively he struggled, as he posted a -3 Defensive Runs Saved and a -5 Outs Above Average in 966.2 innings in right field.
The 2023 season is the last season under team control for Hernández. Therefore, the Jays shipped him off to the Seattle Mariners in one of the first moves of the off-season for any team. They acquired bullpen help in Erik Swanson, as well as a darn good left-handed pitching prospect in Adam Macko.
This trade occurred on November 16th, which essentially meant that another move was coming. A month and change later, the Jays acquired Daulton Varsho.
The 26-year-old slashed .235/.302/.443 with 27 homers in 592 plate appearances for a 106 wRC+. What stood out was his 4.6 Fangraphs WAR, which would have ranked first for the Jays.
Despite not providing the same offense as Hernández, Varsho has a higher fWAR due to his 19 DRS and 17 OAA in the outfield, including a 5 DRS and 8 OAA in centre field.
The Jays got a better play who also happens to have four seasons of team control remaining.
Lourdes Gurriel out, Kevin Kiermaier in:
Gurriel slashed .291/.343/.400 with five homers in 493 plate appearances in 2022. This was the first season he hadn't hit double digits homer, his five homers was a drop from his 21 in 2021. Still, he finished with an above average 114 wRC+.
The 29-year-old was always an adventure out in left field. While he has a strong arm, his routes have always been suspect, as well as his range. Last season, he posted a 3 DRS and a -2 OAA, with the latter actually being an improvement over his -8 OAA in 2021. All this combined led to a 1 fWAR, with his career high being 1.8 set in 2019 and 2021.
Gurriel was traded along with top prospect Gabriel Moreno to the Arizona Diamondbacks for the aforementioned Daulton Varsho. This is a win in my opinion.
His replacement, Kevin Kiermaier, slashed .228/.281/.369 in 221 plate appearances. Surprisingly, he hit 7 homers and has a 6.3 BB% and a 27.6 K%. In his 10 year career, Kiermaier has only had a 115 wRC+ once, all the way back in 2014. Of course, Kiermaier only had a 90 wRC+, but somehow still had a 1.1 fWAR, higher than Gurriel's.
It all comes back to defence. On a bum hip, Kiermaier had a 2 DRS and a 1 OAA, which isn't great, but it's still slightly above average. Now you may be asking:, "he's a below average hitter, and only slightly above average with the glove, why is he the starting centre fielder?!"
Well in 2021, Kiermaier posted a 13 DRS and an 11 OAA when he was relatively healthy. This is to say if he can remain healthy, it's fair to say that the Jays improved drastically.
George Springer stays, moves to right field:
Despite spending a large part of the 2022 season playing through injury, Springer slashed .267/.342/.472 with 25 homers and had a 132 wRC+ and 4.2 fWAR.
Hopefully moving to right field will alleviate injury concerns, because when healthy, Springer is amazing.
Ramiel Tapia out, fourth outfielder by committee:
Things will be a little different in this section while looking at the 2023 players. However, let's start with where Tapia ended up.
After slashing .265/.292/.380 with seven homers in 433 plate appearances, Tapia signed with the Boston Red Sox on a minor league deal. I assumed he'd get a major league deal as he wasn't that bad of a player, and provided plenty of clutch moments, but hopefully he can find his way on the big league roster.
Otto López:
The 24-year-old outfielder/second baseman slashed .297/.378/.415 with three homers in 391 plate appearances in Triple-A Buffalo. He also had an impressive 10.5 BB% and 15.6 K% for a 114 wRC+.
López slashed .381/.452/.534 against left-handed pitching in 125 plate appearances in Buffalo. He's limited by his lack of major league experience, but he deserves major league plate appearances. He also plays centre field well.
Whit Merrifield:
With the Jays, Merrifield slashed .281/.323/.446, which was due in large part to a fantastic last two weeks of the season. He's a natural second baseman, but has played a significant amount of time in the outfield.
Merrifield has played 2144 innings in the outfield, mainly centre field and right field. For his career he has a -6 DRS and a 3 OAA in the outfield.
Nathan Lukes:
The only pure outfielder in this section, Lukes was added to the 40-man roster in mid-November. The 28-year-old slashed .285/.364/.425 with 11 homers in 484 plate appearances with the Triple-A Buffalo Bisons. Lukes has never had a major league at bat, but he has certainly earned it.
He's a left-handed batter, which isn't quite what the Jays need, but expect to see him in the majors some point next season.
Cavan Biggio:
Last season, Biggio slashed .202/.318/.350 with six homers (a career low) in 303 plate appearances. However, he could find more at bats as a super-utility player who plays some outfield. For his career, he had a -2 DRS and a -2 OAA, but has a 1 DRS and a -1 OAA in the past two seasons, mainly in right field.
Potentially with more at bats, he could find his 2019 form where he slashed .234/.364/.429 with 16 homers in 430 plate appearances for a 2.7 fWAR. Who knows.
What happened to the fifth outfield role?:
The theme of this article (and the Blue Jays off-season) is improved defence. Both Bradley Zimmer and Jackie Bradley Jr.'s role on the 2022 Blue Jays was to come in to centre field as a defensive replacement.
With the additional of Kiermaier and Varsho (two well above average defenders), the defensive replacement role has been phased out of the Blue Jays game plan.
What's next:
In the next article of the series, we'll take a gander at the catching situation, which has also gone through a change since the last article. After that, we'll look at the infield situation, before the starters and bullpen.
As always, you can follow me on Twitter and Instagram @Brennan_L_D.
---