The Blue Jays add to their pitching depth with buy-low, rebound candidate Steven Matz
The moves just keep on coming. The Blue Jays continue to add, this time acquiring Steven Matz from the New York Mets for Sean-Reid Foley, Yennsy Diaz and, Josh Winckowski.
On the surface this is a move that helps both clubs. The Mets are able to clear Matz's $5.2M salary off the books, so they can go after Trevor Bauer, and the Blue Jays are able to open up a 40-man roster spot for Marcus Semien.
Reid-Foley and Diaz are DFA candidates on a jam-packed 40-man (more so the latter than the former) and Winckowski is a low-level prospect with some upside to be more than that. 
For the Blue Jays, they are hoping Matz can be more than just a salary dump. Matz had a pretty terrible 2020, a 9.68 ERA, and a 7.76 FIP. He wasn't able to keep the ball in the yard allowing 14 homers in just 30.2 innings. His 37.8% home run per fly ball rate was more than double his career high. He was done in by the long ball and his 4.15 xFIP and 4.05 SIERA are a little more in tune to how he pitched last season.
What Matz does well is strike batters out. He struck out 25.4% of batters in 2020, a career high. He throws hard, his sinker averaged 94.5 miles per hour and as a reliever he can touch 97. His stuff however hasn't been that good.
Matz has been a starter in the past, but his only good season in the rotation was back in 2016. It hasn't been announced yet what role the Blue Jays plan to use Matz in, but it wouldn't be surprising if the first tweak they made was moving him permanently to the bullpen. The Blue Jays only lefty in the pen currently is Ryan Borucki. Matz would give them another lefty, one who could throw two or three innings if needed. Plus with the three batter minimum, you need your lefty relievers to be able to pitch to right-handed hitters.  
The next tweak the Blue Jays should make is to Matz's sinker. The sinker is Matz's primary offering throwing it over 50% of the time. This past season he increased the spin rate on the pitch over 100rpm, up to 2230 rpm, which led to an increase in velocity. Unfortunately the results didn't follow. Batters teed off on the pitch and it ended up with a run value of +10, per Baseball Savant, making it one of the 10 worst pitches in the league.
The sinker doesn't move like you expect a sinker would. It has just 18 inches of drop which is 12% less than average. The pitch looks and acts like a four-seamer.
This clip is Steven Matz in a nutshell. He leaves a sinker up in the strike zone; it's not high enough or hard enough to induce a whiff. If that pitch is at 97, or has some movement, it may miss the barrel of the bat. Instead Christian Vázquez gets all of it for a two-run homer.
There is no spin deviation on the pitch. In the image below you can see the spin on the sinker when it is released (image on the left) is between 1:45 and 2:30 and when the ball gets to the plate (image on the right) it's between 1:45 and 2:30.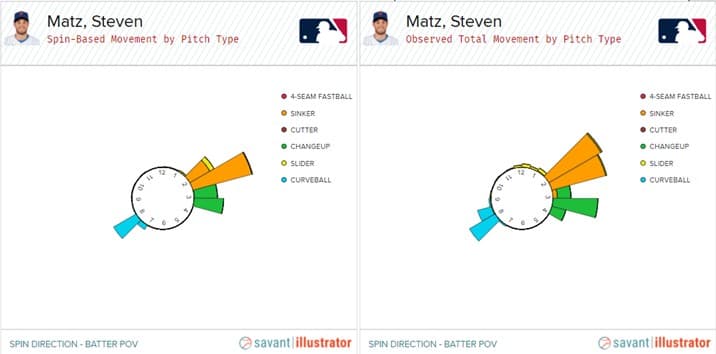 This is an issue, especially when your location looks like this.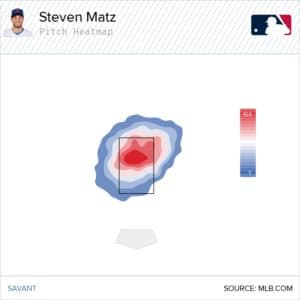 That is the location of Matz's sinker over the past two seasons. Sinkers traditionally are thrown down in the zone, and four-seamers are thrown up in the zone. Matz has decided to do neither of those things and throw his sinker right over the heart of the plate. It's no wonder why Matz's has been homer prone over his career, as a batter you couldn't ask for a better pitch to hit.
Improving the location of his sinker has to be a top priority for him and the Blue Jays. If he could adjust the pitch so it got more movement that would be beneficial as well. Particularly if he was able to get some separation from his change-up, as his change-up has been his best pitch.   
His change-up gets 13% more drop and 20% more fade than average. It's a pitch he can fade away from righties and get them to roll over on. It has similar spin to the sinker but 10 mph slower. It's his best pitch for whiffs, with a whiff rate of 34.6%. Typically he locates the pitch on the edge of the strike zone, away from right-handed batters, but much like the sinker, the change caught too much of the plate too often and batters hit it hard.  
If Matz could get his sinkers observed spin between 12:00 and 1:00, opposite to the way his change-up spins, which could help him miss the barrel of the bat more, and make both pitches that much more effective.  
The sinker and change-up both mirror well with the curveball. Matz improved his curveball, adding close to three inches of drop and two inches of break. He only threw the pitch 15% of the time, so that may be a pitch he looks to throw more with the Blue Jays. He throws it to the opposite location of his change-up, in on righties and away from lefties. It's his primary put away pitch. The pitch had a 35% strikeout rate last season. It got hit hard as well batters had a .412 wOBA against the pitch. Though a lot of that may have just been bad luck, the xwOBA on the pitch was just .244.
For the Blue Jays the primary reason to get a pitcher like Matz is he can give you innings, whether that is as a starter or reliever. This allows the team to keep arms like Anthony Kay, Thomas Hatch, Trent Thorton, and Julian Merryweather in AAA so they can further develop without having to worry about forcing one to the big leagues because a starter got hurt or was ineffective.
There may not be a ton of upside with Matz, but tweaking his sinker and fixing his location, he could be a serviceable arm for the Blue Jays, which in itself has value.