The Ricky Tiedemann Report: The young lefty struggles in his last Double-A start of the season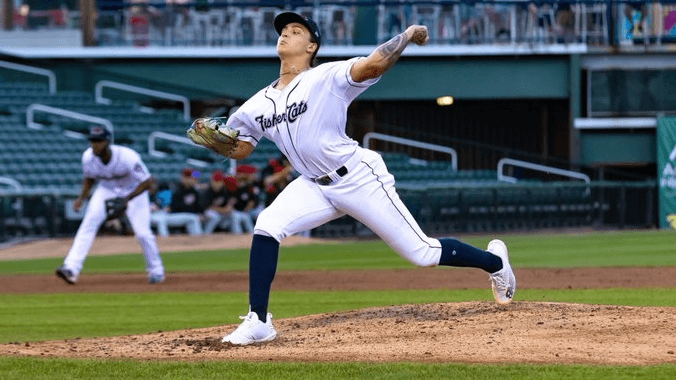 Photo credit:Fisher Cats PR
Ricky Tiedemann's last start in Double-A didn't go great.
The 21-year-old lefty finished with a line of
2 IP, 3 H, 3 ER, 3 BB, 4 K
, throwing 59 pitches, and 32 of them for strikes.
Tiedemann's game didn't start off all that bad, as he got the first batter out via a swing and miss, before proceeding to get the second batter to ground out. However, he walked the next batter, and the Yankees top prospect, Spencer Jones, hit his second home run in Dobule-A. Funnily enough, this was the first home run that Tiedemann gave up since the two home run game back on July 8th, 2022.
The first inning woes continued after the homer, as Tiedemann walked the next two batters, before Eduardo Torrealba hit an RBI single to make it a 3-0 game. The young lefty then painted the outside of the zone for his second strikeout of the game.
Tiedemann's second inning went better, but it still wasn't great.  The first at bat featured Max Burt hitting a hard ground ball into the outfield, before stealing first and second. The third round pick from 2021 proceeded to strikeout Trey Sweeny for the second time, before hitting the third batter, giving the Patriots runners on first and third with an out.
The left-handed pitcher got his fourth and final strikeout on Agustin Ramirez with a sweet changeup, before winning the battle against Spencer Jones to get his final out as a Fisher Cat in 2023.
So what do you make of this outing from Tiedemann? His invincibility he had in 2022 has sort of worn off, and he has looked mortal. That's not a bad thing, as it's important for minor league players to go through some adversity early in their career.
It's likely that Tiedemann has finished his Double-A career (barring rehab assignments), as it's been reported that he'll be called up to Triple-A for the final week of the season. The 21-year-old finished with a 5.06 ERA, and a FIP likely under 2 in 32 innings pitched. Moreover, he had a 39.7 K% and a 13.7 BB%.
Tiedemann may head to the Arizona Fall League after the season ends, as he only pitched 40 innings in 2023, compared to 78.2 innings pitched last season.
Despite the lackluster season for the Top 100 prospect, he'll now have to work in the off-season to improve some issues. Some of these include lack of command and control at points, working to make his slider a more competitive pitch, and staying healthy to eat more innings.
With that being said, Tiedemann is still incredibly young, and his potential is intriguing.
---
As always, you can follow me on Twitter, Instagram, and Threads @Brennan_L_D.
---