Digging into Samad Taylor's breakout season in Double-A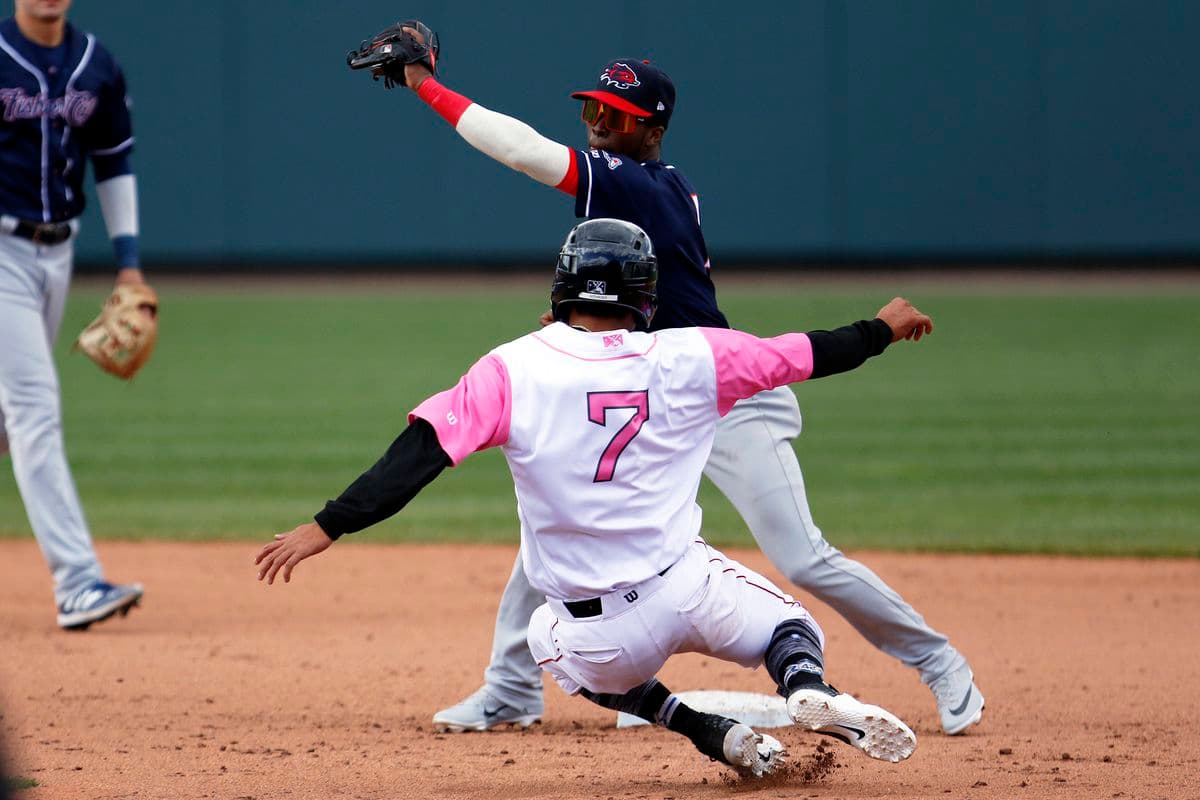 You wake up, expecting the big lad Alek Manoah to be pitching tonight. You look at your phone and it says… July 31st, 2017. That can't be right, can it? You look through your notifications expecting another postponement, but you see that Joe Smith has been traded for Travis Pannone and Samad Taylor.
"What the heck happened last night?" you ask yourself. "How did I get home?" You fall back asleep because this is getting weird.
You wake up the next day and it's July 9th, 2021. Back to normal, pandemic and all. You decide to look at that Samad Taylor kid's slash line: .303/.393/.961. 
High schoolers take a while to develop
Receiving two prospects for a relief pitcher who had an expiring deal turned out to be one of the better trades made by the Atkins/Shapiro regime.
While Pannone never quite panned out for the Jays, there is still hope that this trade can become a win in their favour. Samad Taylor has had one of the oddest paths of development that I have seen and really it feels like he's been in the organization forever. At the time, this trade was heavily scrutinized, I know this because in doing research on the trade, I stumbled upon a Bob Nightengale tweet where Jays fans were up in arms.
However, there are times where you have to let your assets grow, kind of like how one dabbles in the stock market. Nearly four years removed from this trade, Smith is in the twilight of his career with a not-so-good ERA while Samad Taylor is raking in Double-A.
Taylor was once a top 30 prospect for the Jays. MLB's Pipeline rated him the Jays' 26th best prospect. His scouting grades (from a scale of 20-80) are as follows: 50 hitting, 40 power, 60 running, 50 arm, 50 fielding for an overall grade of 40. While those grades aren't glowing, his report is much better.
Taylor is an athlete as seen by his 60 run grade. However, he has a quick bat and has a surprising amount of power. He has the ability to steal bases and he was profiled at second base. The scouting report goes on to mention that he has a high floor with his hitting, patience and speed.
Samad Taylor, the five-tool player
I asked a person familiar with Taylor's season about Samad. One of the most interesting things they mentioned to me was that "[Taylor] is a true five-tool player." How could a guy that the Jays traded for in 2017 suddenly appear as a versatile five-tool player? Let's find out.
Taylor was profiled to play second base according to his 2019 scouting report, but this season he's played in various positions. He has played 19 games at 2B, 11 games at 3B, 15 games at LF and 6 games at CF. I've written an article about versatility in the minor leagues and Samad Taylor is one of the biggest examples of the Jays' philosophy of "everyone needs to play at least three positions". 
Taylor, with his high grade of speed has plenty of range which allows him to play centerfield. That's one of the five tools down. I asked my source about Taylor's defense, their response was that "[Taylor] has a good arm with one outfield assist to his name." A good arm? Well, that's another one of those "five tools". Furthermore, a good arm means that Taylor can play third base as well as left field.
Another one of the five tools is speed and oh boy does Taylor have the speed. In 48 games this season, Taylor has 17 stolen bases and has only been caught four times. Fun fact, that is nearly identical to Danny Jansen's stolen base/caught stealing numbers. Anyway, in 2019 he stole 26 bases while getting thrown out 10 times. The season prior was his masterclass however, as he stole 44 bases while getting thrown out 16 times. Lighting McQueen is speed? Nah, Samad Taylor is speed. This tool was never in question.
Now for the hitting tools. I mentioned earlier that Taylor is hitting .303, and boy does he have this tool in spades. In 2018 and 2019 he never batted .230, but before those two seasons, he regularly hit near .300 with a wRC+ between 116 (in rookie ball) and 135 (in low A). One may question why he's had success in Double-A. While COVID decided to take away life as we know it, which included minor league baseball, Samad travelled to Australia and played 25 games. While the fall league was short, Taylor took his adjustments from his time in Australia and transferred them to how he plays in Double A. Shi Davidi wrote a great article about him here.
Now we come to the juicy parts, and by juicy parts, I mean a juicy hanging breaking ball that Taylor smacks out of the park. Without his power, this article would not be written. Prior to this season, he hit a combined 23 home runs over four seasons of minor league ball. In that time frame he had played 313 games with 1,277 plate appearances.  Thus far in 2021, he has hit 12 home runs in 48 games and 206 plate appearances. 
What I wrote is not exaggerated, Taylor is hitting home runs like his life depends on it. My source told me that the reason that Samad has been successful is because "[Taylor] is seeing far more pitchers per bat than any other time in his career. He's really able to get around pitches." With the adjustments he's made, Taylor has made the 2019 scouting report about his power laughable.
A Prospect on a Contender
In 2017, the Jays were less than a month before their playoff hopes ended. Trading Joe Smith, a relief pitcher, for a player who'd pay dividends four years later was a good decision in retrospect. Baseball is a business, we seem to forget that players are not just assets, but also human beings.
I like Samad, I think he has potential. I like the fact that he willingly decided to go to Australia in the fall to improve his game. He carried over what he learned and has become a better hitter. That shows great character to me.
Who knows what the future holds, all I know is that Samad Taylor has the making of a very good ball player.