Blue Jays Nation's Mid-Season Prospect Countdown – No. 10: Tucker Toman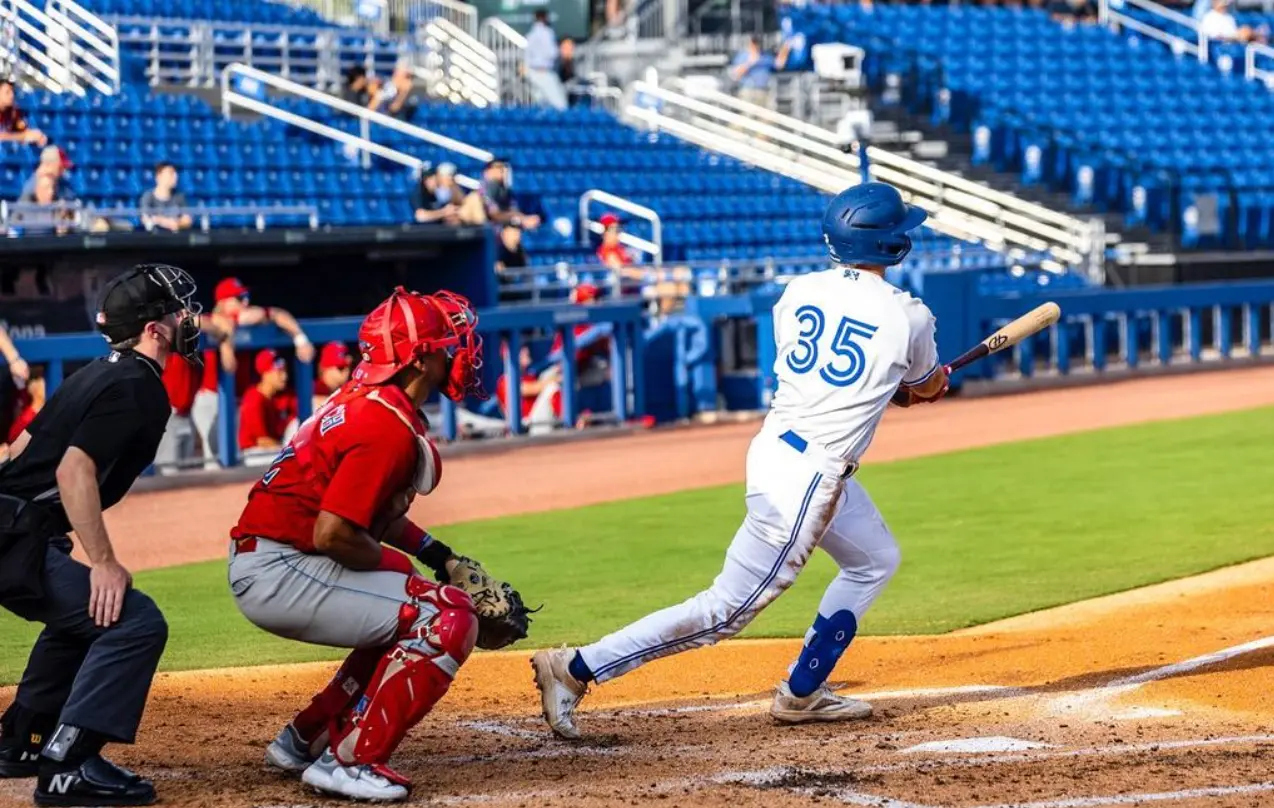 Photo credit:Dunedin Blue Jays
As you may know, high school draft picks take longer to develop.
Just a quick recap of the mid-season list: We'll look at the player's stats, my observations, and finally other publications (Prospects Live, MLB Pipeline, Baseball America)' scouting reports.
Let's take a look at Tucker Toman.
Getting to know Tucker Toman…
Position: Shortstop/Third base
Bats: Switch
Born: November 11, 2003
Acquired: 2nd round compensation, 2022 draft (Blue Jays)
Current Team: Single-A Dunedin
Previous Ranking: 7
The 19-year-old left infielder's first season in the organization left some aspects to be desired. With the Dunedin Blue Jays, he slashed .211/.325/.320 with five homers in 486 plate appearances. While he did a decent job at drawing walks (12.8%), Toman struck out 27.4% of the time.
In terms of his Statcast numbers, his maximum exit velocity from 2023 was a 105.6 mph ball, a fairly impressive number considering he hasn't filled out his frame yet. Toman's average exit velocity was 86.8 mph, and he had a hard-hit rate of 26.2%.
It's important to remember that the switch-hitting left-sided infielder hasn't even turned 20 years old yet. While high school picks are more prone to bust, it also takes them longer to develop. Look at Addison Barger and Davis Schneider for example. Neither has appeared on this list (yet), but both are top Blue Jays prospects after spending at least three years in obscurity. High school upside takes a while, but what makes Toman's upside interesting?
You can't teach power. Toman has raw power from each side, with a more fluid swing on the left side than the right side. Often with power comes swing and miss, which Toman has a fair amount in his game. He's definitely a power-over-hit guy.
In terms of defence, Toman has the instincts to play shortstop and may stay there, but there's an equal chance he could end up playing third base, having spent more time there in 2023 (577.2 innings at third, 256 innings at shortstop).
One reason not to panic is because Toman has a high work ethic. According to his MLB Pipeline bio, Toman spent so much time at the Blue Jays complex, that they literally sent him home for a period to get him away from baseball. It's evident he has a love for the game, and he'll put in the hours to improve.
After what can be considered a setback season, it may be a few years before Toman makes it to the upper minors, but his ceiling could make the wait worth it.
Next up…
In the next article, we'll look at a severely underrated prospect who definitely deserves to be considered in the top 10 in the Blue Jays organization.
---
In case you missed it…
---
As always, you can follow me on Twitter, Instagram, and Threads @Brennan_L_D.
---