Blue Jays Nation's Mid-Season Prospect Countdown – No. 14: Dahian Santos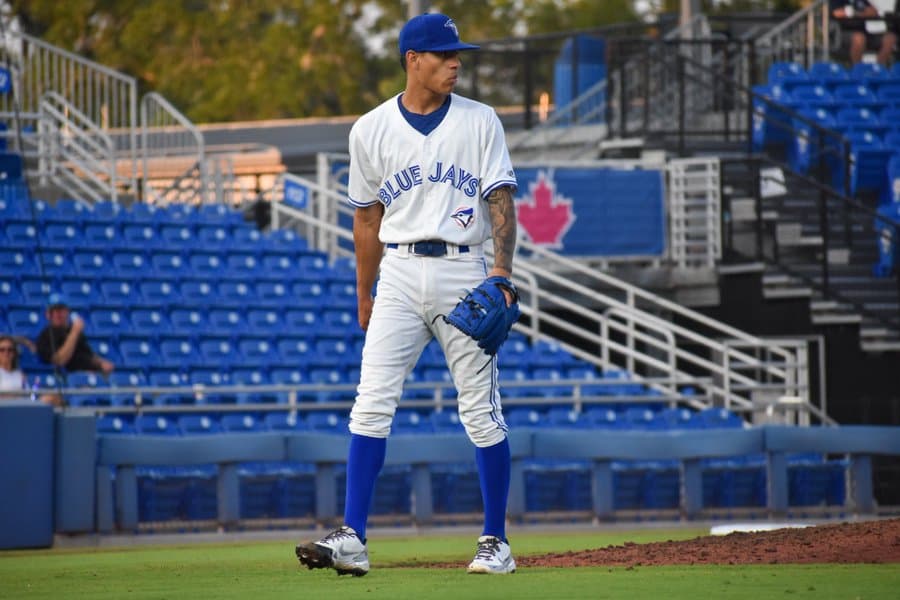 Photo credit:Dunedin Blue Jays
This prospect has one of the best sliders in the organization.
Just a quick recap of the mid-season list: We'll look at the player's stats, my observations, and finally other publications (Prospects Live, MLB Pipeline, Baseball America)' scouting reports.
Let's take a look at Dahian Santos.
Getting to know Dahian Santos…
Position: Starting Pitcher
Throws: Right
Born: February 26, 2003
Acquired: 2019 International Free Agency
Current Team: High-A Vancouver
Previous Ranking: 11
Santos broke out in 2022, posting a 3.44 ERA and a 3.51 FIP in 73.1 innings pitched with the Single-A Dunedin Blue Jays, along with a 39.3 K% and an 11.5 BB%. His tenure in four starts with the Vancouver Canadians weren't great (10.66 ERA), but he maintained his high strikeout rate of 34.4%.
The 20-year-old has repeated the High-A level in 2023, and has been much better. In 48.1 innings pitched, he has a 3.54 ERA and a 4.80 FIP, along with a 27.2 K% and a 13.1 BB%. 
Santos has one of the best sliders in the organization, nearly reaching a spin rate of 3000 RPM on several occasions last season with the Canadians. It sits in the low-80s, and has plenty of sweep which generates whiffs.
The right-handed pitcher also features a low-90s fastball that has touched 94 mph. However, there is still belief that Santos could add more velocity to his 5'11", 160 lb frame as he grows older. He also features a changeup for a third pitch. It's by far Santos' weakest pitch, but has arm-side fade and a nice shape to it.
Santos' biggest flaw in his game is the high walk rates he's posted in his career. The lowest BB% he's had came in his first professional season back in 2021, where he had an 8.1 BB%. Afterwards, he hasn't had a BB% lower than 11.5% at any level he's been at. As he rises up the minor leagues, this is something he'll have to improve on.
There's plenty of reliever risk for Santos, but he's young for the High-A level, and he generates a ton of whiffs, which will help him stay as a starter for the foreseeable future.
Next up:
The next prospect on the list is one who hasn't made his professional debut yet, and won't until next season. Stay tuned!
---
In case you missed it…
---
As always, you can follow me on Twitter, Instagram, and Threads @Brennan_L_D.
---