Blue Jays Nation's Mid-Season Prospect Countdown – No. 15: Gabriel Martinez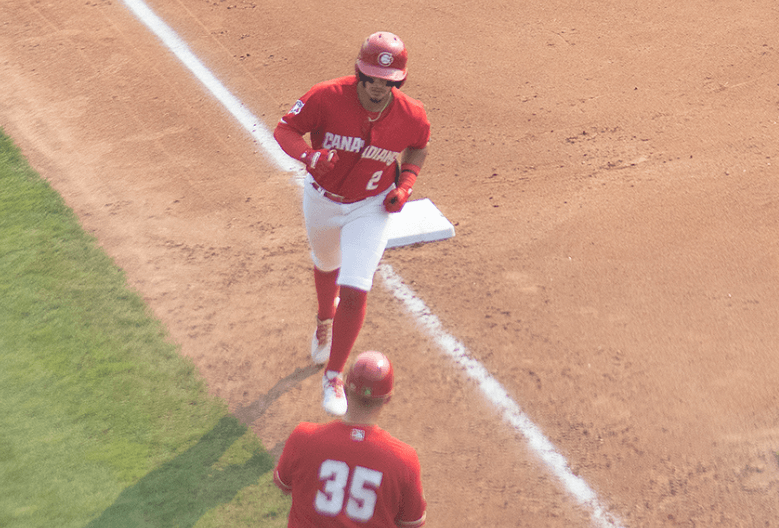 Photo credit:Niall O'Donohoe - CSPlusBaseball
This prospect may be struggling in 2023, but it's way too soon to give up on him.
Just a quick recap of the mid-season list: We'll look at the player's stats, my observations, and finally other publications (Prospects Live, MLB Pipeline, Baseball America)' scouting reports.
Let's take a look at Gabriel Martinez.
Getting to know Gabriel Martinez…
Position: Outfielder
Bats: Right
Born: September 24, 2002
Acquired: 2018 International Free Agency
Current Team: High-A Vancouver
Previous Ranking: 8
After climbing up top prospect rankings in 2022, the 21-year-old outfielder has had a tough season as he's repeated the High-A level. In 432 plate appearances, Martinez is slashing .245/.302/.381 with 12 homers, along with a 6.7 BB% and a 16.9 K%.
For comparison's sake, the outfielder slashed .293/.355/.477 in 389 plate appearances in 2022, along with 14 homers, mainly between Single-A and High-A. This has dropped him from the top 15 on MLB Pipeline's list, all the way to 27th.
Martinez's best tool is his hit tool, as he's shown in the past to be able to hit near the .300 mark (both in 2021 and 2022). He also has a good contact approach, limiting the strikeouts and putting the bat on the ball.
Furthermore, the young outfielder's power has come on the past few seasons. Prior to the 2022 season, he had only hit two home runs in 2019 and 2021, but he amassed 14 in 2022, and could surpass that by this season's end.
Defensively, he has a strong arm for a corner outfield position, but struggles with range, which will need to improve as he reaches the upper minors. As for his run tool, he's a fringe runner who isn't active on the bases.
Despite the tough year, Martinez still has an intriguing profile, and he still has plenty of time to figure it out.
Next up:
In the next article, we'll look at a young pitcher with some disgusting stuff.
---
In case you missed it…
---
As always, you can follow me on Twitter, Instagram, and Threads @Brennan_L_D.
---