Pre-2022 Blue Jays Top Prospects Countdown – No. 8: Samad Taylor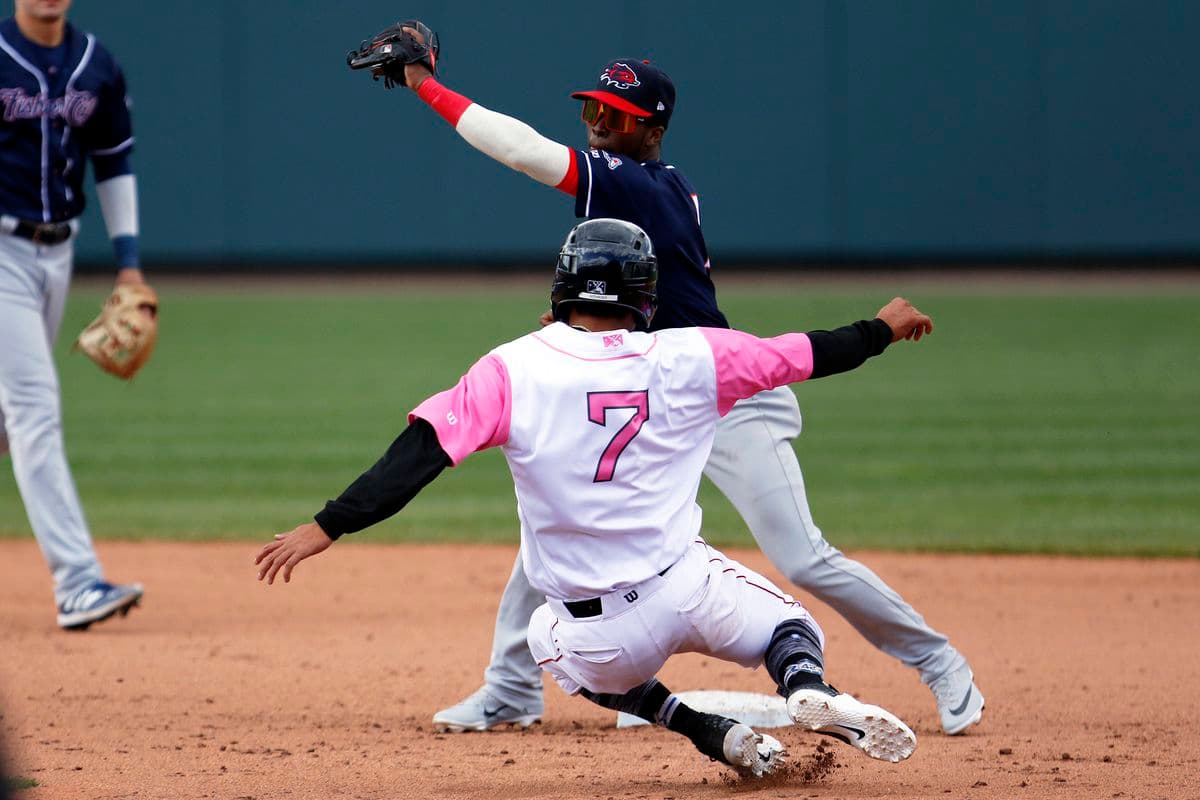 Did you know that Samad Taylor was pulled over for speeding once?
That's not unusual, except for the fact that the 23-year-old wasn't in a car. The versatile player is that fast. Taylor broke out in the 2021 season, therefore, he ranks as my eighth best Blue Jays prospect.
Background:
Drafted by Cleveland in the 2016 draft, the Jays traded an expiring reliever, Joe Smith, for Taylor and another prospect named Travis Pannone. Pannone, a pitcher, spent parts of the 2018 and 2019 seasons on the Jays; however, Samad was the main prospect that the Jays wanted.
Prior to the 2021 season, Samad lacked power, as the utility player only had 23 home runs in a combined 1,277 plate appearances. In 2018, he had a slash line of .228/.319/.706 in 530 plate appearances with the Jays A level affiliate. This was the first time he had over 135 plate appearances at any level, not to mention this was the first time he played above Low A.
He earned a promotion to High A the next season, where his slash line decreased to .216/.325/.689. At this point, it's fair to see why most Blue Jays prospect rankings didn't include the young utility player. So how did he improve so much?
As you know, the global pandemic started in 2020 which eventually canceled the 2020 minor league season. This didn't stop Samad from playing baseball, as he joined the Canberra Cavalry in the Australian Baseball League. He made adjustments which translated into his 2021 season. Shi Davidi wrote a great article about Samad's adjustments here.
Taylor's 2021:
Samad's 2021 can be defined as developing all 5-tools to become a well rounded prospect. The first noticeable statistic is the fact that Samad Taylor finished with 16 home runs in only 374 plate appearances. Furthermore, he slashed .294/.385/.888, which is by far the best in his career.
As you can see, 2021 was a breakout year for Samad's bat both in terms of power and hitting. However, Samad was (is) also a menace on the base paths, as he stole 30 bases in 38 attempts, good for 79%.
Lastly, his defense stands out as well. Due to Taylor's speed, he can cover a lot of ground with his range and he also only committed six errors in his 657.1 innings played on the field. He's a sound fielder and his arm isn't too bad either, as he posted two assists from left field. The 23-year-old is also incredibly versatile, as he played second base, shortstop, third base, left field and centre field, all for a significant amount of innings in 2021.
That's not to say that there are some worrying concerns about his game. One may see his BABIP of .394 and believe he got lucky. However, Samad was able to use all sides of the field as he hit 39.9% of balls to his pull side, 27.7% of balls up the middle and 32.4% of balls to the opposite field.  In 2018 and 2019, he pulled the ball 49.1% and 44.3% of the time, which led to a .270 and .292 BABIP respectively.
The other concern is not one that can be brushed aside so easily. With his home run totals rising, so did his strikeout rate. In 2021, Taylor had a K% of 29.4%, which is the highest in his career up to this point at any level (minus a brief spell of 20 PA in rookie ball in 2017). This is a perfect segue into what the scouts think about him.
What the scouts say:
Taylor ranks as the Jays' 17th best prospect on MLB Pipeline and their 36th best prospect on Fangraphs. Furthermore, Samad ranked as the Jays' 24th best prospect in Baseball America's 2021 mid season report.
Per MLB Pipeline, Samad's versatility on the field opens up pathways to reach the Blue Jays. With his new found power, he must stay consistent as this improvement has helped him flourish. Fangraphs are a little less sold on his power, as they believe that he isn't strong enough to duplicate his results in the big leagues. 
Fangraphs also make a note of his tendency to swing and miss, something that the 23-year-old will need to cut down on as he'll likely start the season in Triple A. Below are his grades.
| | | |
| --- | --- | --- |
| Tool | MLB Pipeline | Fangraphs PV (FV) |
| Hit | 50 | 30 (40) |
| Run | 60 | 60 |
| Arm | 50 | 40 |
| Field | 50 | 45 |
| Overall | 45 | 35+ |